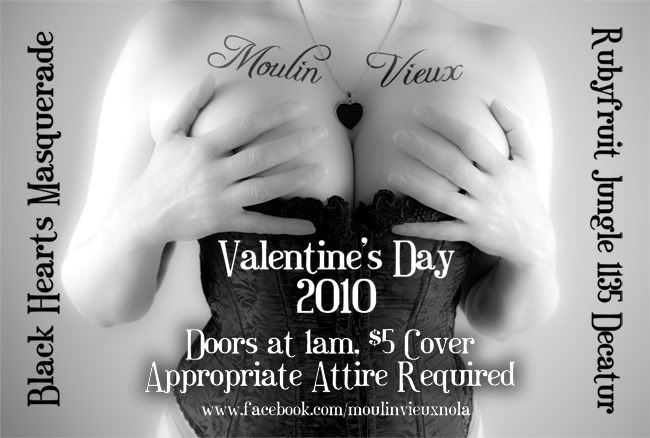 This Valentine's Day Moulin Vieux invites you to join us for the first time in our new venue for our Black Hearts Masquerade Ball! So put on your evening clothes and get out your snazziest mask because this Mardi Gras Ball is gonna Sex You Up!

Starting at 1am Sunday Night/Monday Morning after the evening parades and going on till well after dawn we've got Two Floors of music, dancers, drinking, sexy play, and hot movies! All the fabulous things you've come to expect from Moulin Vieux only more and better, more furniture, more play, more sexy fun!

Goodies for all! Prizes for sexiest evening wear! Some masks will be provided but we do recommend you bring your own.

5$ at the Door.
Rubyfruit Jungle, 1135 Decatur NOLA
Appropriate Attire Suggested, Suggestive Attire Always Appropriate.